Excursion to Sydney Wildlife Park and Aquarium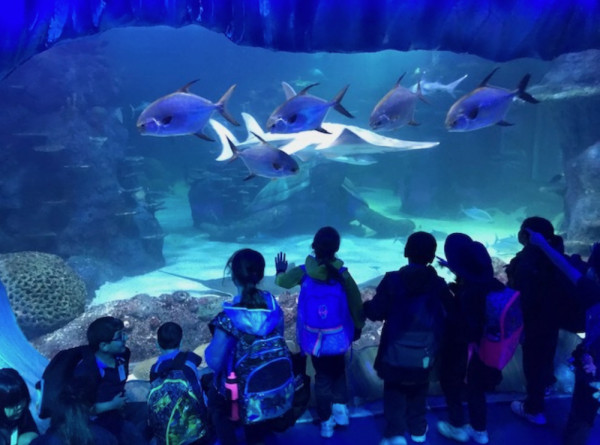 Our Years 1 and 2 students were very excited to attend their Sydney Wildlife Park and Aquarium excursion!
Staff and students started the day early – arriving at school at 7:00 am. The excitement on the students' faces as we approached Sydney was wonderful to see. The students loved going under the tunnel near the airport, we were lucky enough to see some planes take off.
Our first adventure was the Sydney Wildlife Park. We walked around the wildlife park and saw many unique Australian animals such as the red tree kangaroo, Tasmanian devil, wombat, red belly black snake, crocodile, bilby and green tree frog.
During lunch and we were lucky enough to sit in the undercover koala exhibit and have lunch with the koalas.
After lunch, we went to the Sydney Aquarium. We walked through the shark and stingray tunnels, saw a dugong, sea turtles and a variety of different fish from all over the world.
The rainy weather could dampen our day or our enthusiasm – it was a great excursion that was thoroughly enjoyed by all the children.
Thank you to Mrs Grey for all the organisation and Ms Martins, Mrs Zaffonato, Mrs Agius and Ms Maitland for assisting us on the day.
What our students said about the day:
"My favourite animal was the quokka because it had cute nose and was playful" — Fatima A

"The best part of the day was seeing the massive crocodile. I could see it's sharp teeth and very long tail" — Mason W

"I loved the grey nurse sharks at the aquarium. This was the first time I have seen a shark" — Marcas D

"The grey nurse sharks swam over my head. I could see their very sharp teeth" — Mohamad JB

"I loved having lunch with the koalas! The baby joey was very cute!" — Natinee P

"I loved touching the starfish at the rock pool. It felt rough and hard" — Amelia S
Sydney Wildlife Park and Aquarium Photo Gallery